Optique for Children & Teens
Optique Opticians has a specially designed children and teens area, complete with DVD and orange leather chairs in the state-of-the-art premises to keep your little treasure occupied for the duration of your visit. Elaine recommends that children should have their eyes examined from the age of two or before, if there are signs of vision defect and/or family history of such.
Every child wants to fit in, to look good. So if your child happens to need glasses, it's very important that they can wear them with confidence and style. With this in mind, Optique stock an impressive range of fun and funky kids and teens glasses to please even the most fashion-conscious child.
With top brand names such as Nike and Ray Ban, these glasses will jazz up any teen's look in an instant. For the younger customers, Optique has children's favourites such as Nano Vista, Oakley and Fila, ensuring all your superheroes can't wait to get their specs on in the morning.
Durability is obviously a priority for parents – Optique provides a wide selection of durable metal, plastic and flexible titanium frames, to ensure that your child gets optimum wear out of their glasses. Children and teens need more specialised frame fittings as their facial features develop – Optique Opticians has the most advanced and latest eye care technology on the market, making sure that your child is receiving the very best in eye care.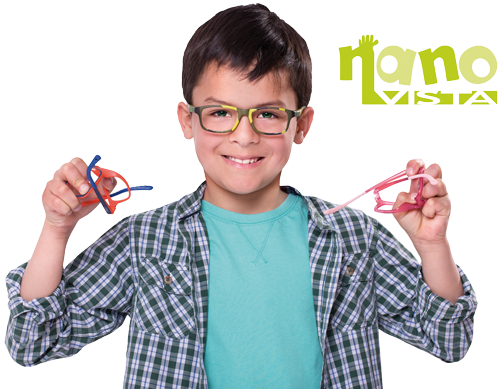 Children in particular are extremely sensitive to the sun. Our natural crystalline lens is not fully developed until age 12 so it is essential to have Ultaviolet filters which are available in prescription sun lenses, polarised lenses and most clear hi-index lenses. It is also advisable to have reflection free lenses which have optimal clarity of vision, scratch resistance and reduce the effects of glare from external sources such as computer screens, light sources and headlights. 
We stock designer children's frames from…










Check out the fantastic range of children's prescription sunglasses such as Bollé, Cébé, Rayban and Vuarnet at Optique to ensure optimum sun protection for your child. Also in stock at Optique is a range of colourful children's accessories such as eye patches, prescription swimming goggles, cords and colourful children's cloths and cases.
Value for money is something we take seriously, so we have ongoing offers and promotions to keep both parent and child happy. Students get complimentary standard index reflection-free lenses with blue light filters when they choose their desired eyewear. 
Optique Opticians is one of Galway's newest and most up-to-date opticians, offering a huge range of stylish glasses for the discerning customer.
We are located in Briarhill Shopping Centre next to Dunnes Ballybrit. Our spacious, stylish and state-of-the-art premises offer the perfect setting to browse and pick that ideal pair of glasses or accessory.
We also offer the very latest state-of-the-art optical equipment, ease of access and ample free parking. Make Optique Opticians your only choice for children and student eye wear and care. 
Children should have their eyes examined from age two especially if there is a family history of eye conditions. Focusing errors such as long and short sightedness and astigmatism can lead to a variety of complaints such as headaches, blurred vision and fatigue.
Childrens eyes are more sensitive to UV radiation than adults, and should therefore also protect their eyes from the sun. 
Always keep your glasses in their case.
If you put them on a table, make sure the lenses are face up!
If your glasses aren't positioned right on your nose, are slipping, or hurt behind your ears, it's time for an adjustment! Regular visits to your optician will avoid these little problems.
Clean lenses are the best way to guarantee good vision.
Clean them at least once a day with warm water and soap, or using an appropriate cloth or a cleaning solution, as recommended by your optician.
When using a computer, stay at least 40 cm away from the screen, and when you watch TV sit at least 3m away.